SMOOTHIE TO GO – ART. 854

Frullatore ad impulsi con bicchiere take away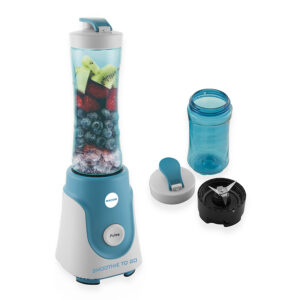 Frullatore ad impulsi
SMOOTHIE TO GO è un frullatore ad impulsi semplice da usare: si versano gli ingredienti, si frullano, si svita il bicchiere, si chiude e… si porta via!
Con due bicchieri da 600 ml e da 300 ml, entrambi dotati di coperchio con tappo apri e chiudi.
SMOOTHIE TO GO è la soluzione ideale per preparare la quantità desiderata di frullati, succhi e milkshake da consumare ovunque: casa, palestra, ufficio e in viaggio.
Facile da pulire.
Scarica la scheda prodotto
Scarica il libretto di istruzioni
Scarica il ricettario
acquista on-line