VAC 4000

Cordless vacuum sealer machine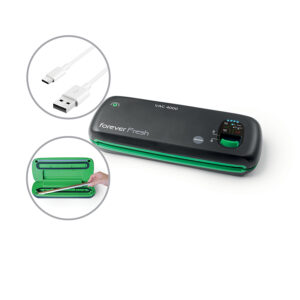 Powerful, cordless vacuum sealer machine with 28 cm sealing bar
Compact, cordless and USB rechargeable vacuum sealer machine. Autonomy up to 50 vacuum cycles with a single recharge.
Battery recharge time 1 hour and 50 minutes.
14.8V 1500mAh lithium battery. 28 cm sealing bar, removable for replacement.
Selector for wet/dry food.
VAC 4000 can also be used to vacuum-seal jars(optional).
Tube and jars not included in the package.
Download product details
shop on-line